Border Control: 60 second read by Farriz Mashudi 04/08/2020
They're dangerous. Invasive. They can't be here. They'll kill other life forms; They'll bring death to all.
I'd been warned and duly cautioned. But I did nothing. The targets concerned were believed to be benign and friendly. They couldn't be simply uprooted without warning. Neither could I standby and do nothing while they were attacked. So, what did I do?
I feigned acquiescence, agreeing with all and sundry that this migrant species was indeed, very bad. Very, very bad, indeed.
I'd hoped in this way, for them to be spared. Great plan that was. Now they were to be rounded up and eliminated, and would end up banished completely from these parts.
Born at the height of '60s Flower Power, the motto 'LIVE, AND LET LIVE' had prior to this, served me well. But it had me harbouring illegals now. How, had it come to this?
Well, the neighbours were tenacious, dogmatic. . . and also perfectly correct.
"Sheltering and allowing their kind to spread is against the law," they said.
The Welsh Government, implementing EU regulations, wanted this lot dead. Seeing my, 'bury your head and drag your feet' approach, they decided to take matters into their own hands. And tomorrow, it would be genocide on the riverbank.
Once slain, the long limbs I'd done my best to protect would be cut down, then burnt to prevent them ever coming back. They could do whatever pleased them back in their homelands. But here, this gurkha of a plant with its pretty pink flowers and highly explosive seed pods —
the Himalayan balsam (impatiens glandulifera), originally from those mountains, is deeply feared for its smothering of the domestic population.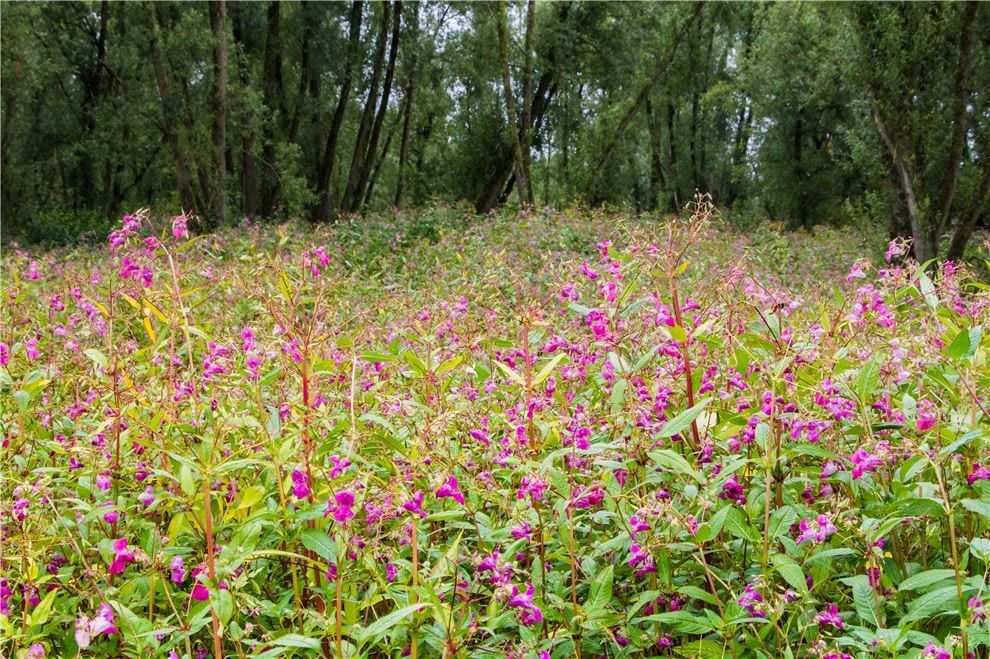 Doing the right thing: July 2020 was Eliminate Himalayan Balsam Month