RATTLED*
* Subject to change at webmaster's discretion.
Theme for publication period June – Sept 2021.
Photo credit: DK Find Out
---
One Can

: an aspirational new poem by C. Chandaka from the QNL Writers Group 20/04/2021
One Can
Why should I earn, why can't I learn.
Knowledge is not only for earning,
it is also for learning. Why can't we!
One tree can make a woodland.
One tear can make a sea.
One smile can keep a life alive.
One hand can hold a globe.
One promise will be there for ever.
One heart can beat a life.
One idea can change a mind.
One brave step can make a kingdom.
If it's possible; one can.
Photo: Dom J
---
3 Tricubes

: by Peace Imowo Tom a gifted young poet from the QNL Writers Group 16/03/2021
Saintly
I consume
all, trembling
with white rage:
children, men
ebbing out
with old age.
Watch the flames
on your knees
as I burn.
IT'S THOSE MOMENTS

my mind a

goldmine of

old angers.

Blue stars burst

out of barks

off dark boughs,

then the cry,

"Ah, see,

I remember."
---
A Shot In The Arm

: by Kate Sherringer 14/01/2021
What a triumph that would be for Benjamin Netanyahu! For Israel to be 'the first country in the world to emerge from the coronavirus' as he now claims. How has he designed to reach this record breaking achievement? By a huge vaccination programme which will offer the protection of the Pfizer vaccine to 'all citizens of Israel over the age of sixteen by the end of March and perhaps even earlier'. Other countries are finding it a little harder than predicted to access the vaccine in large enough quantities, so how has Israel convinced Pfizer to up the level and the speed of deliveries?
According to Prime Minister Netanyahu, he has struck a deal – and here is a man who surely should know how to strike a deal – with Pfizer, agreeing that Israel will become a global model for the vaccination of a whole country. The Israeli population will provide data and statistics that Pfizer will find valuable in future research. So, really, a win-win situation! Surely?… hold on just a little moment. How many people are they talking about? The Israeli population is approximately nine million. Already 20% of them have received their first, life-saving jab – a rate roughly ten times higher than those vaccinated here in the UK – and just as if it looked as if supplies might be slowing down, in steps Saint Benjamin to offer his nation a solution. They can become the noble guinea pigs offering themselves up to benefit science and the rest of the world. What a relief to the population.
But apart from the chosen ones, another population live alongside and- oh, oops – it looks like Netanyahu forgot to add them into his calculations. A strange slip of memory as much of the country known as Israel is populated by Palestinian people. Of course, no slip of memory is needed to excuse the omission because, by most Israeli's reckonings, there is no such land as Palestine, and therefore no Palestinians.
What we, as outsiders, onlookers, must remember is that we are talking about occupied territory. Disputed borders notwithstanding, there are Palestinians living in Gaza, the West Bank and Israel itself. Under international law (blatantly ignored year on year by the Israeli government) any occupying country has a duty of care to ensure fair treatment and the well being of those upon whose lands they have encroached. Maybe Israel believes Palestinians have a natural immunity to Covid, and therefore do not need the vaccine? Hardly. At the time of writing cases of Covid 19 stood at nearly 150,000 with 1700 deaths among the Palestinian population. Israel's blatant disregard for the lives and welfare of the Palestinian people has even led them to close down clinics set up to help deal with Covid patients. But now the whole country is to receive the vaccine surely the situation will improve?
So, you are able to get vaccinated in Israel if you are over 16, but only if you are a card-holding citizen of Israel. I am not sure how those slightly-less-than-Israeli Israelis will fare. Will the asylum-seekers from North Africa be considered Jewish enough to get their jabs? How about the group of youngsters refusing to join the IDF to do their compulsory military service? And the Jewish Rabbis for Peace who support the Palestinians? The ex-military group Breaking the Silence? The bereaved families in The Parents Circle?
Except that the non-Jewish population will not be part of Netanyahu's master plan. He has decreed that the Palestinian Authority in the West Bank, and Hamas in Gaza will have to take responsibility for dealing with the virus amongst their populations. Even though Israel takes 'responsibility' for refusing building permits, for diverting water supplies, for trying juveniles in military courts, for promoting and supporting the rapid growth of illegal settlements which appropriate even more of Palestinian land and for controlling movement across endless checkpoints and borders.
I know that my friends in Bethlehem, Jenin and Sebastia will not be 'entitled' to receive the Pfizer vaccine procured so cleverly by the government. They will be discriminated against, as they are in every aspect of their lives, by the apartheid regime of Israel. No right to their land, their water supply, their olive trees. No right to equality. And that is how we know that although the vaccine will protect the Israeli people from Covid19, it would take a great deal more than a contract with Pfizer to protect them from international condemnation as a 'fake' democracy which discriminates on ethnic grounds against 49% of its population.
Let Palestinians have Palestine once more. And then we can expect them to take full responsibility for their own citizens living in equality and freedom.
---
Haddon Hall – Oak Door and Hornbeam Topiary

: by Jan McCorkindale posted on 05/01/2021
To the right of this oak door stands a tree. I have never found the need to research topiary before, there not being much in the way of greenery, let alone topiary where I grew up.
Some say topiary is a horticultural practice while others describe it as an art. No matter. Topiary is both the plant used and the shape that plant is transformed into. It is customary to use evergreen, but on occasions, certain deciduous trees or shrubs. Their foliage and twigs are clipped, firstly to establish, then later to maintain clearly defined shapes, both geometric and fanciful.
Topiary is known to have been around in the west since Roman times. It has, like all fashion, come in and out of popularity and was at its height in the late 17th and early 18th centuries, predominantly in England and northern Europe, probably because that is where suitable plants grew. It has its equivalent in China and in Japanese bonsai.
What I like about topiary is its pointlessness and its ephemeral nature. Look up topiary and you will find thousands of images of trees and shrubs hewn and shaved, clipped and bent into some shape not favoured by nature, but chosen by man: some tiny geometric spirals and cones; some animals as varied as mice and dinosaurs; many in human form, including one where Alice is emerging from the rabbit hole. One question for the gardeners of Haddon Hall. When you could choose anything to shape a hornbeam into, why choose … a tree?
---
Writing & Whatever

: by Greig Parker 02/08/2020
Busier than ever during lockdown, from the QATAR NATIONAL LIBRARY (QNL) ENGLISH CREATIVE WRITING CIRCLE comes the prolific stylings of Greig Parker in his freshly launched blog: Writing & Whatever (greigparker.com)
Hot of the press from 31/07/2020, along side the Scrivener expert's briefs of his several novels, quirkily compelling short fiction*, and engaging poetry, is Grieg's own photography. — Each a stand-alone work of art.
Mabruk, Greig, very well done!
---
The Beauty of Sleep

: 78 second read by Rahmah Aziz
*

12/07/2020
Sleep is essential to living things. We, the human beings, have the bed, a proper place to lay our head.
Birds and monkeys, amongst others, sleep in the trees. Some unlucky ones fall down, hurt themselves, even die. Whilst sheep, horses and cattle, as domestic animals usually have their own sleeping quarters in which to lie.
Human beings are very lucky with our creature comforts, complete with soft, beautiful beddings. Yet some choose to drift off in a flimsy hammock or on a lumpy couch. Many snatch quick naps for forty winks here and there. We notice those nodding off in lectures and seminars, and even on stage at official functions.
During sittings of Parliament, we see Parliamentarians with heavy eye-lids sometimes closed. No doubt those dozing with the mouth wide open are really enjoying themselves; We can only imagine the sounds of their snores.
Others go to the theatre or cinema and snooze through an entire show. How funny!
But that's the reality.
Just like falling asleep in front of the TV is a habit with almost everyone, old and young.
But, have you ever heard of someone falling asleep during choir practice?
I did, a few times. I'm sure Dr. Indra, my very kind choir director is aware, even if she's never mentioned it. They're very lively sessions, full of fun. And I love singing; It's my passion.
So, what happened?
Old age, I guess.
Another reality.
Good thing I was sitting down, a special honour allowed for an ancient singer like me. Otherwise, asleep on my feet, I might have fallen and been badly hurt.
At the end of the day, waking up in one piece is what this seventy-eight-year old grandma is most grateful for when it comes to sleep, in all possible scenarios, wherever it may be.
* My dearest mother-in law, Rahmah Aziz is a retired English teacher living in Malaysia whose love of singing is surpassed only by her passion for writing, painting and cooking.
---
Review of Hay Festival 2020 – 'Glacier Shallap'

: 2 minute read by Kate Maclean 09/07/2020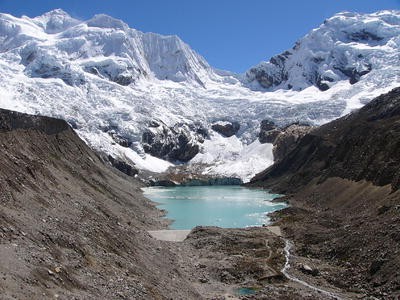 I looked at one of the events which featured at the Hay Festival, available on YouTube called 'Glacier Shallap' – or The Sad Tale of a Dying Glacier' and the discussion at the festival leading up to the creation of this play.
I thought this was a very exciting project, funded jointly by Natural Environmental Research Council and Trans.MISSION II :
'a new global project pairing leading environmental researchers with award-winning storytellers to communicate cutting edge science to new audiences.'
As part of this project, glacial scientist, Jemma Wadham and Raul Loayza Murotalk studied the Shallap Glacier, high in the Andes.
The conclusions are bleak.
Unless we can halt global warming at the end of the century these glaciers will all be gone – these glaciers that are the primary source of fresh water in the region. But more immediately the melting glacier is poisoning rivers and the lagoon, its retreat exposing heavy metals in rocks. The rivers now run red and the lagoon is dirty green. The fish have died, and animals dependent on them, in serious decline.
Jemma had been looking at plants to create artificial wetlands to filter the water, aiming to work with the small local communities in the mountains. But this would only be a short-term solution. Curbing global warming is the only long-term answer.
The idea of this project involved Jemma working with storyteller, Erika Stockholm.
Of course, this way of working and presenting her findings was totally outside her experience.
The discussion summed up scientists as being trained to present findings independent of emotion, whereas artists, trained to move peoples' hearts.
Erika's starting point was to ask Jemma to imagine herself as the glacier talking to the world, and she built her short story around this. So the main character is the Shallap Glacier, and Erika 'brings her story to life on the strings of a violin.' It is only 10 minutes long, beautifully presented in icy blue colours, and simply told.
Jemma had had concerns that in taking part she would no longer be seen as a 'serious' scientist, but so far she thinks this unfounded.
However, she has also found that the performance of the play has had far more impact than any scientific talks she has ever given.
She feels it has been a far more effective way of communicating her research, both when it has been shown to audiences in small Peruvian communities, and to high officials and government ministers. I think this approach opens up enormous possibilities, particularly when carried out in this international and inclusive way.
Click here to watch: 'The Sad Tale of The Dying Glacier'
---
More climatic drama takes place in LATEST POSTS: The Perfect Match and A Climatic Misadventure.
---
Debut Poetry

: 60 second read by Kurian John 08/07/2020
Keralan monsoons bring the turning over of a new leaf . . .
I'm not a pessimist.
As we chat I'm sitting outside enjoying the rain. It's a force of nature, it is.
But with its partner, the wind, it dances. It treads light-footed over the earth and the earth smiles.
When the rain goes, little drops cling to leaves. They pose delicately doing their own dance on a slippery top; Then roll down as children down a slide, with joy to Mother Earth.
Clear and pristine, you can see the world reflected in each drop. It's beautiful, isn't it?
Me, a pessimist?
I'm not defined by the labels against my name; Not by any group I've been slotted into.
I'm not defined by what I need to make; Nor the expectations of my abilities.
Culture does not define me any longer; Not mine, nor my host's.
I'm me. I'm free.
---
No Weddings, Only Funerals
(revisited – EXTRACT FROM)

: 80 second read by Celia Watchorna

*

03/07/2020
Novel synopsis

: Laced with humour and satire, the story revolves around a large and close knit clan in the Philippines. When the elders pass on, fresh issues emerge and past conflicts resurface. Siblings and cousins alike find themselves tangled in a web of confrontations that take place only during funerals — that one occasion when their numbers are always complete, minus one.
"Have you seen Aunt Minerva?"
"Yes, I just did. I was staring at her face! There's something not right."
"Her brows, maybe?"
"You saw that too?!"
"Who do you think did her make-up?"
"I overheard Nora say it was Winston, her favourite makeup artist."
"Wow! Even in death!"
"Who paid for it?"
"Aunt Fiona did!" And a loud burst of uncontrollable laughter coming from the two echoed in the room. Eli nudged Pia with his elbows to motion her to leave immediately as a familiar figure headed their way. It was Uncle Ernie, and he looked upset. Pia closed her eyes as she played these words in her head. "Keep calm, breathe slowly… and here he comes."
"You two should be ashamed of yourselves!" as he stood with arms folded. "I can hear you laugh like hyenas from outside. Show some respect for the dead."
"Oh, I'm sorry, Uncle Ernie!" replied Pia in a gloomy voice.
"Eli and I were just talking about unforgettable moments with Aunt Minerva. How she loves corn and…"
Uncle Ernie interrupted with a sly smile. "Yes, that especially! Even if she can't sink her teeth in the corncob."
Eli excused himself and hurriedly ran to the exit door while Uncle Ernie stared in bewilderment.
"What happened to him?"
Pia replied, pretending to look affected. "I think Eli just can't get over these memories. Remember? He buys her the corn?"
"Did he?"
"I need to go check on him, Uncle Ernie. He might need me."
"Go on! But hurry back the makeup artist will come soon. You need to assist him."
Pia darted to the exit door and searched for her cousin in the hallways. There she found Eli laughing outrageously. Pia slowly slid down to the floor as she joined in the laughter. Who could ever forget that nasty corncob with the gripping dentures?
When Eli's mother passed away, Aunt Minerva, his mother's older sister, took him under her care. She wasn't really a mother figure to Eli, but an executor of her sister's will. She was a cold, impatient and overbearing woman. Often finding fault in everything and Eli was always that fault in everything.
* The grand-daughter of illustrious Filipino historian and anthropologist, E. Arsenio Manuel, billed also as 'The Father of Philippine Folklore', besides fiction writing, Celia Watchorna is busy finalising the much-anticipated 2nd edition of his seminal and famous folk epics for upcoming publication.
* Photo credits: 1) Mermek AM 2) Marta Dzedyshko on Pexels.com
---
Findings on Kathleen Jamie

: 90 second read
by Farriz Mashudi 23/06/2020
I've been quite taken with the short-story form, and the flasher or shorter, the better, in so-called 'dribbles' and 'drabbles' (under 50 words and below 100, respectively, by more miserly definitions). Wary of starting another full-length novel, what of the novella-in-flash; Is this an in-between format?
Then I find Katherine Jamie. — In her 2005 publication 'Findings', she presents a series of interlinked essays within separate headings. Snapshots about a location, there's a story arc, but one that's broken up… or down if you like, into sections, each capable of being stand-alone pieces of individual flash, in non-fiction.
Neither does Jamie start each section where the last one left off (per traditional story-telling practise); and further consistent with the flash-fiction novella form — at the end of each section, there's a resonating point, something to chew on; and these culminate in an ending or sum total bigger than each of the essays' individual parts.
The essay 'Findings' is itself placed third in the running order; not first, nor last, as customary with a title piece. Might there be a link between each, in addition to the connections within them? If there is, it's yet to be found.
Anchored by a photograph of scraggly beached wrack and white shells at low tide, five sections of varying lengths follow, divided by a simple sketch resembling birds flying at a distance, or seeds drifting in the wind, maybe fragments of broken coral.
Born out of a desire to possess (specifically a gannet's skull), Jamie's journey takes a spiritual bent with allusions to monks, nuns and magi (who relinquished or proffered worldly possessions). In the throes of the elements, weather features largely, as does a questioning of core beliefs.
Her trademark irony materialises in the breadth of the beach scavenging finds described (from bollards to a dead donkey's head), with the ultimate find being that the real keepers are items holding personal value.
---
Don't miss live readings by Kathleen Jamie on July 29th, 2020: c/o Arvon on ZOOM.
---
Darkness And Light

from 'Findings' by Kathleen Jamie: 70 second read
by Farriz Mashudi 23/06/2020
Does the title sound cliched to you?
It did for me at first. And so it was that I approached the opener of Scottish poet and writer, Kathleen Jamie's series of eleven essays, 'Findings', with foreboding. Considering, as well that I thought I didn't enjoy nature writing; and that I thought nature writing was a bore. By mid-chapter a third thought, though, had taken root.
She was good.
Darkness, she laments, has for too long stood for death. Describing the Orkney Isles as supine, visions of slumbering hilly terrain came to mind, as they lie blanketed in deep blue, grey and green sleep waiting patiently to be awakened by a complementary, rather than opposing brightness. I say patiently because the ancient burial tomb she's there to visit, the Maes Howe, is some 5,000 years old. Her visit being in December, and just days before the winter solstice, there's a precious little six hours of daylight for her ramblings, which are nonetheless illuminated throughout with shining notes.
Absent discernible plot, the many walks — down lanes, through a golf course at night, and in the rain — bring readers with Jamie on a soul-searching route.
Not one to romanticise crisp starry nights, even roping in Elton John to not 'let his sun go down', she finds irony, humour and humanity in the extraordinary and mundane.
"Ill-starred" is how she describes her quest, but I had seen the light. Impressed by Jamie's power to draw in and slow the reader down, this being if not divine, certainly felt sublime (a sentiment she apologises for herself in describing a dramatic seascape).
Fundamentals shaken to the core, call me a re-birthed convert if you like, if only to the temple of nature writing that is, Kathleen Jamie.
---
The Ancient Holly

: 60 second read
by Kate Maclean 20/06/2020
The day grew grey, and gentle steady rain
soaked. Saturated hair clung to my face.
I wasn't cold. I'd stay a little more.  

The tree, now heavy with wet leaves
swayed and wailed a thousand rippling waves.
Did birds still sing? I heard a magpie's 'caw'.  

Beneath this holly near the garden gate
I sheltered, shielding from the dripping rain.
Here twining ivy weaving through the years,
has twisted its thick ropes round roughened trunks
and from amongst the thick mat-tangled boughs
ran narrow ways and dark forbidding streets
its shady alleys hiding shady deeds.
What's happened to those little blue-tit's chicks?
And weren't there once some sparrows here, as well?
I hear light scratchy, scrapping, squawking caws,
contented squeals high in the magpie's nest
the melting calls of young, and well-fed birds.  

The rain has stopped.  And now the heady scents
of honeysuckle, rocket and old roses fill the air.
Rustles of a squirrel over-head.
And insects fly through threads of cobwebs laced
with tiny jewel drops, quivering in the sun.
I see the black-jade leaves, now silver-touched.
Yes. This old tree, true to its ancient rights
harbours death, but with it springs new life.  

I wander on. Warm sun dries my hair.
And now, once more, hear music from the birds.            
In support of the Ivy's case? – See The Grumpy Naturalist: The Apple and The Ivy 15/06/2020
---
Lost In A Wilderness

: 40 second read
by Garry 'Sos' Shore 20/06/2020
Lost in a wilderness, desperate for nourishment, Nopalli and Nochtli, hung out amongst the cacti.
No doubt they had been let down by the evil dragon Hylocereus, spikey and fiery, hard to digest. And the two faced Sequestrator. Pertaining to be neutral, always drawing hot air. Their only hope was for Portulaceria to come to their aid.
Why did they wear orange?
I don't know. Do you think they stood out?
Asking for trouble in a green world.
Whatever, it did not matter, the promised Portulaceria was nowhere to be seen.
Would they have recognised her?
Botha, the South African called her Spekboom, it means bacon tree, so sounded good, held promise, gave hope.
But there was nothing left of them, just the chrome skeleton and orange.
What happened to them?
Sadly, it wasn't a bacon tree, it was a 'ambush.
Don't forget to dance in the woods – it's the summer solstice!
---
Radio Shack

: 2.5 minute read
by Garry 'Sos' Shore* 13/06/2020
I was three years old when I saw our home for the first time. We stood at the gate and my mum whistled. My dad, standing on a pair of steps decorating, bent below the frame and waved to us through the big front window.
We moved in after a few weeks and six months later my brother was born.
It was a happy house but when I look back, we didn't have a lot but, I never wanted for anything. Both mum and dad were attentive and made every day an adventure filled with fun. They were young, only twenty-two, so still full of the joys of spring with two lambs to feed and keep.
The back garden backed onto a field and a wood. Excitedly we watched them build the new 'Redifusion' radio mast fifty meters from our house. Mum said we will get excellent reception here.
Later she proudly played the radio enjoying all the news, chat and music. Sunday tea was always the same. Sat around the table, we said grace and ate our ham salad whilst listening to 'Sing something simple' with the Adams Singers. After we would play a game; snakes and ladders or something similar. Then it was bath and bed.
I grew up fearing nothing. Smiling away each day.
In 1981, twenty years after we had moved in, the devil knocked on our door.
I returned from a holiday in Ibiza, Spain and was very unwell. By November I was in the General Hospital starting my chemotherapy treatment for cancer. In October I had had my operation to remove the tumour and at the same time my mum was having an hysterectomy because of a tumour on her cervix. Thankfully mum was clear after the operation and didn't need any follow up treatment. Unfortunately, I suffered the ordeal of new, painful drugs that I believe were designed to cause projectile vomiting on an extraordinary scale.
It was ten years late in 1992 that I was given the all clear. Within a month my brother came to see me worried about some symptoms. They were mine. I took him straight to the hospital and the consultants saw him immediately. Within six weeks Steven had an operation and a few weeks chemo.
Later that same year and again in 1997 I was diagnosed with cancer. This time, thankfully both were benign. It was 2016 before it was my dad's turn. He had eight operations in twenty four hours and was very poorly. He recovered and came home however the whole experience seriously upset my mum. She fell into a serious depression, dementia took hold and in 2018 she died of breast cancer because she had become too weak to fight.
One house, four people. One very large radio transmitter, a wooden shack. A high fence and lots of barbed wire could not stop the invisible monster that came in on the radio waves!
* With heartfelt thanks to Garry, a dear writing buddy from the QNL Creating Writing Circle for being the first contributor to this guest slot.
---
Raymond Carver

:
by Farriz Mashudi 12/06/2020
Which do we prefer? : WHAT WE SAY WHEN WE TALK ABOUT LOVE (Raymond Carver's iconic short stories collection edited by Gordon Lish) or BEGINNERS (re-published as Carver wanted it).
What Carver might have said . . .
Letter to My Editor


Maybe I ain't clever,
I'm OK with that.
But as a Writer,
I want my sub-text
To be less obscure.

I'm out of touch?
That's plausible, yes . . .
Can I just have my 
Words back in again
Or it's asking too much?

You want me to succeed?
No arguments there.
You're my Editor,
But I gotta speak.
The voice now is YOU, not ME.

"Lish, this is good sh*t. Let me keep it."
"Cut it out Carver. It's better like this, I promise."
For the full dirt (garden variety or wild?): //www.newyorker.com/magazine/2007/12/24/rough-crossings
---
Send me your stuff

:
by Farriz Mashudi 09/06/2020
Monthly, first Tuesdays for newcomers, 9 to 11 a.m., the 'QNL Creative Writing Circle in English' had a certain ring to it… A far cry from a bugler's brassy notes, sans any "Tally Ho!" the name struck as resoundingly more descriptive of a gaggle of old ladies knitting yarns. Mother Gooses in sweaters. The mental picture had her in stitches.
They could be a roomful of monkeys for all she knew, but it would be OK. Even if they were, it would be great. She was here now. She could do this.
Beatrix Potter, here we come.
Or would it be the Jungle Book?
---
Concrete's not written in stone

:
by Farriz Mashudi 06/06/2020
           Now, now
                 There, there
                                  NO HURRY 
                           No need to beat down the door
                              It's only to my inbox
                                          Calm down 
                                                        Chill. 
                                                                
                                       The queue  
                                           Is worse (I wish)   
                              Here than for that burger place 
                          That we don't miss at all, Yeah
                Wink, Wink
                   Still.

             Which one
             Do you
             Do best
            esprit, ghost
              writer, poster -
                  child?
            Do your worst
              irrespective:
                                 
           It will be
            BRILL.